Wednesday Vrat Katha:
Men and women who wish to have peace and happiness in his life must take a fast on Wednesday.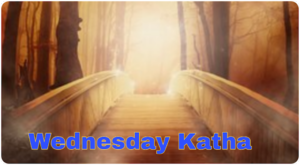 Wednesday Fast Story-
The story of an anciet time, One day amoneylenderwent to hisin-lawsto bring his wife to her house. After staying there for some days, he asked his in-laws to take his wife, to her home, but his in-laws and other relatives said, "Son, today is Wednesday."
Do not travel for any auspicious work on Wednesday. But he did not believe and insisted on Wednesday to leave with his wife to go home. On the way his wifethirsted, she asked for water to drink from her husband. The moneylender left the bullock-cart and went to take water. When he came back with water, he was very surprised to see something. He saw that someone else's face was sitting with his wife.
The wife was also surprised to see her husband. Who is her husband from both of them? He could not recognize. The moneylender asked a person sitting beside him, who are you, and why are you sitting with my wife? He listened to him and said, 'Hey brother, this is my wife. I am leaving my wife in-laws from my in-laws house and taking her home. but who are you ?" The twins started fighting with each other. Even the state's soldiers came and they caught the moneylender and asked the woman who is your real husband? His wife was silent as she was unable to recognize her husband, seeing both of them. The moneylender prayed to God and said, "O God!" What is this? "
Then did the Aakashwani become, foolish man, you should not have to go for auspicious work on Wednesday. You did not obey anybody in the stubbornness. All this is happening from the wrath ofLord Buddh.
Moneylender prayed to Lord Buddh and apologized forhis mistake. He brought his wife home. After this, the husband and wife began to fast on Wednesday.
The person who hears or listens to this story does not feel guilty about traveling on Wednesday, and he gets all kinds of pleasures.