Happy Navratri:
Navaratri is the festival of worship of mother Navadurga. In Navaratri, 9 forms of Maa Durga are worshiped for 9 days. Every year, this holy festival starts as soon as Shradh ends.
Navratri 2023 Date:
This year Navaratri festival starts from 15 October 2023, which will run till 24 October 2023.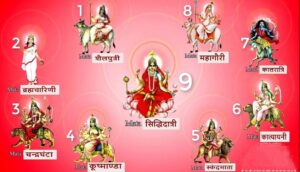 Navratri 2023 Subh Muharat Time:
According to Hindu Panchang, the time of Ghata Establishment Muhurta has been told from 06:27 am to 10:13 am in the morning. At the same time, Abhijit Muhurta for Ghatasthapana will be from 11:44 am to 12:29 am.
Nine forms of Maa Durga:
Nine forms of Maa Durga are worshiped on the nine days of Navratri.
Mother Shailputri on the first day,
Mother Brahmacharini on the second day,
Mother Chandraghanta on the third day,
Mother Kushmanda on the fourth day,
Mother Skandmata on the fifth day,
Mother Katyayani on the sixth day,
Mother Kalratri on the seventh day,
Mother Mahagauri on the eighth day
Mother Siddhidatri on the ninth and last day are worshiped.
Secrets of the 9 forms of the Nine Goddesses of Maa Durga:
Navadurga is worshiped in nine days. You will be surprised to know the secret of these nine forms of mother.
1. Shailputri:
Parvati Mata is also known as Shailputri, being the daughter of the mountain Himalayas. Of course, the first introduction of any woman is to her father. Daughters learn a lot from their father's home. Mother Parvati also learned a lot.
2. Brahmacharini:
Brahmacharini i.e. when she found Shiva through penance. Mother Parvati found Shiva only by following celibacy. After childhood, every woman has to leave her father's house by marrying. Till the time women do not get married, they should follow Brahmacharya, this education gives mother Brahmacharini.
On whose forehead is a lunar-shaped tilak. It symbolizes that the mother, who is holding her moon, her husband Shiva, has also become like her. That means to paint in the color of her husband.
4. Kushmanda:
After gaining the power to generate the universe, they came to be called Kushmanda. Every woman when she conceives is like Kushmanda mother. The giving power is the power to generate the universe in the belly of Ma Kushmand. They have the power to give birth after marriage.
5. Skandmata:
Kartikeya, son of Mata Parvati, is also named Skanda, hence she is called Skanda's mother. When every woman goes through the process of giving birth, she becomes the mother of one or the other. Being a mother is the greatest happiness.
6. Katyayani:
Pleased with the penance of Maharishi Katyayan after being consumed in the fire of yajna, mother was born to him in the form of daughter, hence she is called Katyayani. There is a time of struggle and suffering in every woman's life. Especially when she gets married or becomes the mother of a child. This is his second birth.
7. Kalratri:
Maa Parvati Devi Kaal means that she is going to destroy every kind of crisis, that's why it is called Kalratri. Every woman goes through struggles and crises to protect her family in every way. The woman has the power to protect her husband and son at will and shows them the right path.
8. Mahagauri: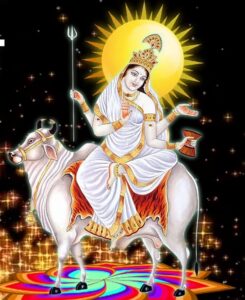 When his color turned black due to harsh penance, then Shiva pleased and washed his body with the holy water of Ganga ji, then he became extremely radiant – like electric power. Since then, he was named Mahagauri. Every woman who performs her fast, fast and religion is called Mahagauri.
9. Siddhidatri:
This is the ninth form of Mother. A devotee who is completely devoted to him, he gives all kinds of siddhis to him, that is why he is called Siddhidatri. In the same way, the members of the household who keep taking the blessings of the mothers of their household and do not make them sad in any way, then they achieve success and success in every sphere of life.