Lord Rama Character:
After the killing of Ravana, Lord Ram's 14 years of exile was about to end. He had to reach Ayodhya as soon as possible and for this, the new king of Lanka Vibhishana requested him to take him to Ayodhya by his Pushpak Viman. Shri Ram accepted his request and left for Ayodhya in Pushpak Viman along with his wife Sita, brother Laxman and all his friends.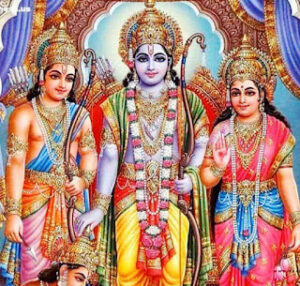 Diwali is celebrated with pomp and joy all over India. This is the day when Lord Shri Ram returned to Ayodhya with his wife Sita and younger brother Lakshman after 14 years of long exile and after defeating the Lankan king Ravana. Dussehra is celebrated before Diwali. On this day Ram killed Ravana.
While returning back to Ayodhya from Lanka, Shri Ram stayed at many places:
1. Ashram of Bhardwaj Muni:
Shri Ram ordered Pushpak Viman to land in the ashram of Bharadwaj Muni because he wanted to have darshan of him while leaving. After reaching the ashram of Bhardwaj Muni, Shri Ram along with everyone took his blessings and attained knowledge. Bhardwaj Muni was also very happy with the arrival of the Lord.
2. Order given to Hanuman:
Before going to the ashram of Bhardwaj Muni, Shri Ram ordered Hanuman to go to Ayodhya and meet Bharat and give him the message of Shri Ram's arrival. Along with this he said that after this he will go and meet his friend Nishadraj. Therefore, after informing Bharat, Hanuman came there and met Shri Ram.
3. Meeting with Nishadraj:
While going to exile, Lord Shri Ram had promised his friend Nishadraj that he would meet him while leaving and also Mother Sita had to worship Mother Ganga. Therefore, after the ashram of Bhardwaj Muni, they all reached Shrangaverpuri, the city of their friend Nishadraj, by Pushpak Viman and met him. After reaching there, Mother Sita worshiped Mother Ganga. After this, Shri Ram left for Ayodhya taking Nishadraj Guh along with him.

After meeting Nishadraj, Shri Ram directly reached Ayodhya where lakhs of lamps were lit to welcome him. It was the new moon night of Kartik month which is the darkest night of the year. But the people of Ayodhya had illuminated the entire city and the royal palace with the light of lamps.
There are many temples and other religious places here, which connect them with Ramayana. Kanak Bhawan Temple, Hanuman Garhi Temple, Saryu River Ghat are some of the places worth seeing here, where people come from far and wide to visit.
Walking tour from Sri Lanka to Ayodhya:
When we see the walking distance from Sri Lanka to Ayodhya on Google Map, the answer is quite shocking, because Google Map shows that the walking distance from Sri Lanka to Ayodhya is approximately 3145 kilometers.
If you want to determine it, then the time shown in it is about 504 hours i.e. the same 21 days. In such a situation, it would not be wrong to say that the tradition of celebrating Diwali that has been going on since Tretayuga is not based on any superstition or fabricated story. Rather, these books have been written on the basis of facts.
Shri Ram's arrival in Ayodhya:
Have you ever thought about this? If you don't believe then look at the calendar. Let us tell you that Valmiki has written in his Ramayana that after the killing of Ravana, Lord Ram returned to Ayodhya after handing over Lanka to Vibhishana.
It took Shri Ram 21 days to complete this journey. The people of Ayodhya celebrated his return by lighting lamps. Therefore Diwali is celebrated 21 days from Dussehra.